Fyrinnae ("feer-ih-nay")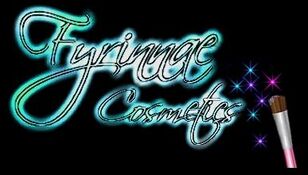 Fyrinnae is a fully vegan indie makeup brand. They are not a mineral makeup brand. According to the independent website from which they sell: "Our eye shadows are NOT the same as "mineral" makeup brand shadows. Most of those are a few colored mica shades mixed together on a transparent white base, or bulk repackaged colorants... We have always strived to create the colors, altering hues in out studio lab using different methods including high-heat treatment, and using deep or vibrant "bases" in the shades to bring out the hues and allow for more variation of sparkle/shimmer/matte." More information can be found on this page. They sell loose powder eyeshadow, glow blushes, highlighters, bronzers, powder primers and finishing powders. They also sell "Pixie Epoxy" a liquid, glitter-adhesive foiling product packaged in a tube.
Reviews and Swatches
Edit
The below are available reviews of Fyrinnae's products, company and customer service, along with looks and product swatches. These are currently sorted alphabetically and by category.
Would Buy Again
Edit
Phyrra
Lipsticks and Lightsabers
Gothique
Beauty With Brains (Pixie Epoxy review)
Pink Sith
Garden of Shadows
Would Not Buy Again
Edit
Feel free to add any suitable reviews to this category.
Feel free to add any suitable reviews to this category.
Community content is available under
CC-BY-SA
unless otherwise noted.